MILONGA WEEKENDs
VIENNA 2015
January, February, March, April, June, July, September, October, November, December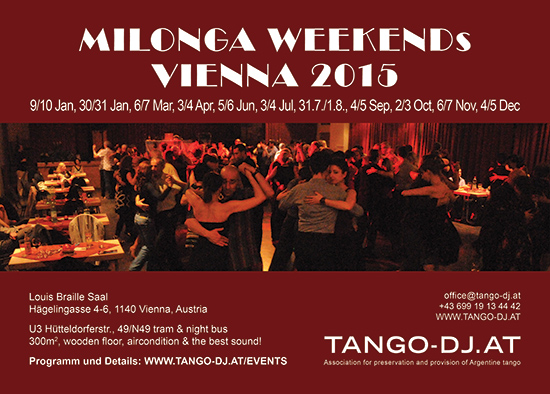 Our Milonga Weekends Vienna feature a minimum of two long Milongas on Friday and Saturday night normally at every first weekend of the month starting at 21:00h!
Dates and DJs in 2015 will be:

MILONGA WEEKEND VIENNA
9/10 January



DJ Jasmin Muranovic

DJ Bernhard Gehberger

MILONGA WEEKEND VIENNA
30/31 January



DJ Sasa Vukelic

DJ Goran Nikšić


MILONGA WEEKEND VIENNA
6/7 March



DJ Christian Oberndorfer
with turntable & LPs!

DJ Fabiola Loik




Chacarera Workshop in Wien


"Chacarera in Wien" am MILONGA WEEKEND VIENNA!

Samstag 07 März 2015, 18:30 bis 20:30.

Louis Braille Saal, Hägelingasse 4-6, 1140 Wien

15€ pro Person

Paula Galimany lädt Dich ein, den argentinischen Volkstanz Chacarera zu Lernen, Üben und Erleben!! Kein Partner notwendig! Bequeme Kleidung und Schuhe werden empfohlen. Ideal ist es wenn Frauen einen weiten Rock mitbringen. Spaß und Mate sind garantiert!

Mehr Infos unter: CHACARERA IN WIEN Facebook Seite


MILONGA WEEKEND VIENNA
3/4 April



DJ Christoph Grohs

DJ Stefan OK




La MilongaM - Tango menswear


@ Milonga Weekend Vienna, Saturday 04 April 2015

Louis Braille Saal, Hägelingasse 4-6, 1140 Wien

Details: La MilongaM Website, La MilongaM FB-group


MILONGA WEEKEND VIENNA
5/6 June



DJ Deborah Segantini

DJ Theo "El Greco" Chatzipetros




We are very happy to be able to announce that we are going to have live music on Saturday 6 June! Orquesta Tango Harmony Budapest will play their danceable performances in tanda structures for us!

Members of the orchestra:

Katalin Bartha - violin, violincornetto, vocal, art director

György Lázár - piano, vocal

Péter Bartha - bandoneón

Ottó Nagy - violoncello, viola da gamba

Gábor Piukovics - doublebass

Astor Querido - Menswear from Buenos Aires!


Gentlemen's outfitters for many maestros like Sebastian Arce, Fabian Peralta, Sebastian Achaval, Carlos Espinoza, Esteban Moreno, Guille Barrionuevo, etc.

@ Milonga Weekend Vienna, Fr. 5 & Sat. 6 June 2015

Louis Braille Saal, Hägelingasse 4-6, 1140 Wien

Details: Astor Querido Website, Astor Querido @Facebook


MILONGA WEEKEND VIENNA
3/4 July



DJ Tihamer Bogdan

DJ Jo "El Huracán" Switten

MILONGA WEEKEND VIENNA
31 July / 1 August



DJ Alessandro Grillo

DJ Matthias Bellemann

Nächster DJ-Workshop mit Matthias am 5.9. in Hamburg:
http://www.layumba-tangohamburg.de/musik-workshop


MILONGA WEEKEND VIENNA
4/5 September



DJ Veronika "Máša" Demjanova

DJ Sasa Vukelic

MILONGA WEEKEND VIENNA
2/3 October



DJ Facundo Almeyra

DJ Jens-Ingo Brodesser

MILONGA WEEKEND VIENNA
6/7 November



DJ Andrea Sorgo

DJ Vlada Dudr

Before Friday and Saturday Milongas there will be Workshops organized by Walter Gnadenberger and held by Caterina Inglese and Pino Trozzola!

Facebook event: https://www.facebook.com/events/513424778834213/

Contact: Walter Gnadenberger, walter.gnadenberger@chello.at, +43680 44 47 658




La MilongaM milonguero tailor-made menswear (pants, shirt, waistcoat, suit) is looking forward to meeting you again at MILONGA WEEKEND VIENNA 7 NOVEMBER.
See you there SATURDAY NIGHT!

Abrazo:
Anita Mária Hornyák


And in order to offer something for the tangueras too, we are happy to have Zsoka Sallai presenting Bandolera shoes as well!





MILONGA WEEKEND VIENNA
4/5 December




DJ Pablo Stafforini




DJ Fabiola Loik





Mi Manera
Gußhausstrasse 15/1-3, 1040 Vienna
phone.: +43 676 64 63 65 3
e-mail: office@mi-manera.at
Facebook: Mi Manera dance shop
Location:

Louis Braille Saal
Address:
Louis Braille Saal
Hägelingasse 4-6
1140 Vienna

Subway: U3 Hütteldorferstraße
Location offers 300m2 perfect wooden dance floor, air condition and our TANGO-DJ.AT sound system!
How to get there from U3 Hütteldoferstraße:
Accommodation:
You may find one of following options useful to find accommodation during your visit.
You can use our Facebook group MILONGA WEEKEND VIENNA in order to get in touch with local people organizing private and/or shared accommodation.
Or you book an apartement near by the event location. We have a special agreement with an apartement house near by. You benefit from a special 10% discount also on last minute offers! Please mention that you book for our "Tangoweekend".
The apartments are located 500m from the event location.


Vacation Rental Studio Melange Vienna
Vacation Rental Melange 1 Vienna
Vacation Rental Melange 2 Vienna
Address:
Dreyhausenstraße 18
1140 Vienna
mobile: +43 699 1666 0800
e-mail: office@easyapartments.at
website: www.easyapartments.at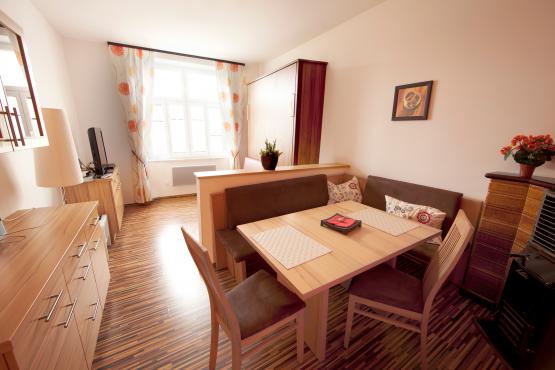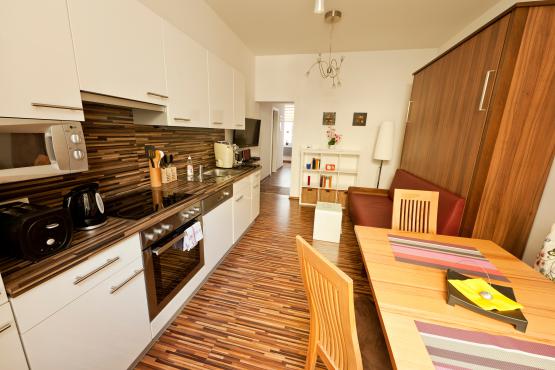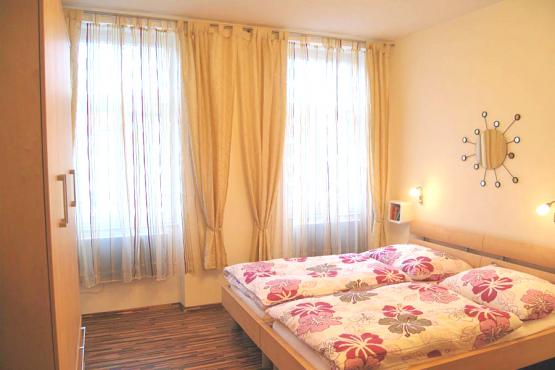 Reservation

For every Milonga please feel free to make a reservation for your prefered chair or table. This is optional, it is a large room, so there will be a place for you also without reservation.
Make a reservation.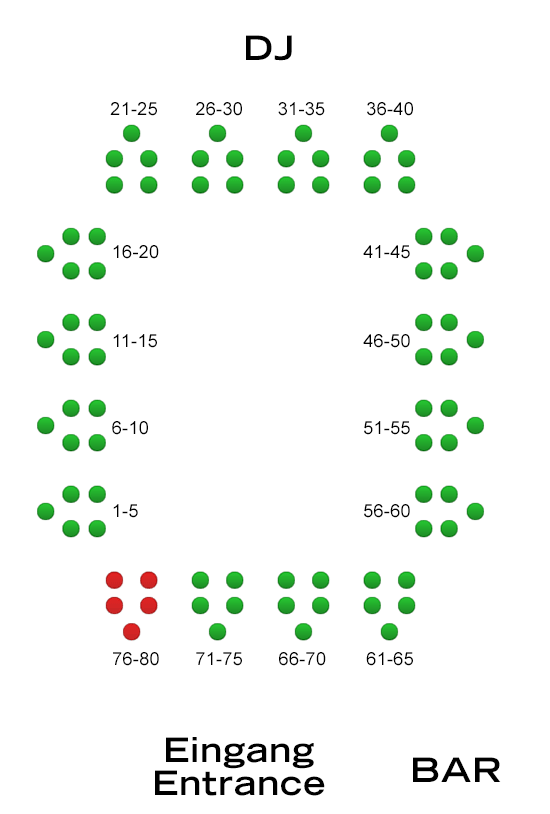 Make a reservation.
Admission & Time

Milongas start at 21:00 (9:00pm) and end at 3:00 or 4:00.
Admission is 10,- EUR per evening/Milonga.
Organization & contact

TANGO-DJ.AT
Association for the preservation and provision of Argentine tango
office@tango-dj.at
+43(0)69919134442
Milonga Weekend Vienna Team
Michael, Niko & Mary, Gottfried & Anna, Sylwia, Bernhard
We are looking forward to seeing you!