TANGO-DJ.AT
Association for preservation
and provision of Argentine tango

Newsletter June 2013
by Bernhard Gehberger
14 June 2013
Dear Tango enthusiast,
this is Bernhard from TANGO-DJ.AT, Association for preservation and provision of Argentine tango with the monthly newsletter TANGO-DJ.AT about DJ-ing, special Tango CDs, Tango dancing and much more. Please note that videos, sound samples and special characters might not display correctly in the e-mail. Please visit the online version instead. Enjoy!
Introduction
As announced with our last newsletter this is going to be a short one. There is some more information about the International Milonga on 26. & 27. of July and Alpine Abrazo on 12.-15. of September.
And then there is the main reason for this newsletter, which is the introduction of the 3 new cd releases by Akihito Baba - Club Tango Argentino.
Please enjoy this month's newsletter. We'd very much appreciate if you want to recommend it to your friends or your link to TANGO-DJ.AT.
best wishes from Vienna,

Bernhard

TANGO-DJ.AT
Association for preservation and provision of Argentine tango
DJ-ing & dancing Tango
International Milonga 2nd edition, 26. & 27. July


YES, there is going to be a second edition of the infamous International Milonga organized by TANGO-DJ.AT! And it will be even larger, longer and better! It will combine the atmosphere of an international marathon with the uncomplicated style of a regular Milonga.  

No registration necessary: Just come & dance!
Details and updates can be found here:
http://tango-dj.at/events/international_milonga!
So it's still in planning stage, but the rough program will be like this:
Friday 26. July, workshop/practica 18:30-20:30
Friday 26. July, Friday night milonga 21:00-4:00
Saturday 27 July, Saturday afternoon milonga 15:00-21:00
Saturday 27 July, Saturday night milonga 22:00-4:00
You may visit each event individually or get a pass for all of them. Contribution will be:
8,- EUR for afternoon Milonga
12,- EUR for single evening Milonga
15,- EUR for Guided Práctica (not included in Milonga pass)
20,- EUR for Milonga Full pass = 7h + 6h + 6h (+1h) = 20h of Tango!
That's 1,- EUR / hour for an international tango event!
Of course we are going to invite international DJs! Two of our Alpine Abrazo DJs will be in charge for the Friday and Saturday evenings and Karin Betz from Frankfurt will join us for the Saturday afternoon milonga! Some of you might have heard her fantastic afternoon set at La Experiencia Milonguera in Pradamano two weeks ago.
The location is offering 300m2 perfect wooden dance floor and air condition:
Louis Braille Saal
Hägelingasse 4-6
1140 Wien
(U-Bahn Station U3 Hütteldorferstraße)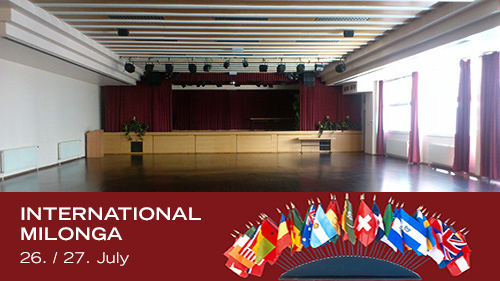 Don´t miss the chance to come by and see us before at the 2nd International Milonga (Friday night, Saturday afternoon, Saturday night) in Vienna on July 26 & 27! A great way to reunite, meet new and old friends and pass the time until September!
Details will be published on TANGO-DJ.AT/events.
Registration for Alpine Abrazo 2013 (2nd edition)

The registration for Alpine Abrazo already started last week!
As of now, there are still places left.... but don´t wait until the last minute to be part of this wonderful experience offering you a great location with wooden dancefloor, warm Tango embraces, delicious traditional Austrian food and wonderful Alpine views…
Watch the 1st edition trailer to get an idea of whats waiting for you in Austria! And this time - be a part of this great event and make it even more special!!

Join us from September 12-15 for Alpine Abrazo, and take an extra few days and pack your hiking clothes to enjoy the surroundings!
For more details as to whats included (Milongas, FREE bath & sauna facilities, FREE snacks & dinners, all soft drinks, water, coffee, tea etc…) and to register see
We are looking forward to seeing you there!

Your,
ALPINE ABRAZO TEAM
Recommended upcoming international Tango events
Some international Tango events Bernhard is DJ-ing, recommending or travelling to:
Please mind that for most of these events registration is mandatory and if you are interested in taking part you have to find out about the registration modalities soon enough!
CD-reviews & news
CTA CD Releases April
Below we would like to introduce the latest 3 Club Tango Argentino CD releases by Akihito Baba. All three of them are offering a very interesting selection of new transfers. On CTA-227 and CTA-356 you might not find too many new tracks (depending on the size of your collection), but certainly several of them in much better quality than what you have got so far. CTA-407 on the other side has a wide selection of recordings you most likely have never heared before and due to the recording years in very outstanding quality as well. We put one or two soundsamples of each CD online for your convenience and information!
Please take a look at the covers and tracklistings, listen to the soundsamples and eventually order the CDs on TANGO-DJ.at/shop.


Francisco Lomuto Vol. 7 (1935-1936) - (CTA-227)
01. Volvió una noche - Orquesta Francisco Lomuto con Jorge Omar - 3:28 - 19/07/1935 - Tango - Genre: Tango Canción
02. Martín Pescador - Orquesta Francisco Lomuto con Jorge Omar - 2:50 - 19/07/1935 - Ranchera -
03. La canción de la noche - Orquesta Francisco Lomuto con Jorge Omar - 2:49 - 08/08/1935 - Vals -
04. Por una cabeza - Orquesta Francisco Lomuto con Jorge Omar - 2:59 - 08/08/1935 - Tango Canción -
05. Esther - Orquesta Francisco Lomuto con Jorge Omar - 2:29 - 27/08/1935 - Vals -
06. El caballo del pueblo - Orquesta Francisco Lomuto con Jorge Omar - 3:07 - 27/08/1935 - Tango -
07. Las perlas de tu boca - Orquesta Francisco Lomuto con Jorge Omar - 2:58 - 08/10/1935 - Rumba -
08. Si dejarás de quererme - Orquesta Francisco Lomuto con Jorge Omar - 2:57 - 08/10/1935 - Tango -
09. Luis María - Orquesta Francisco Lomuto con Jorge Omar - 2:30 - 26/11/1935 - Tango -
10. De puro guapo - Orquesta Francisco Lomuto con Jorge Omar - 2:59 - 26/11/1935 - Tango Milonga -
11. Parece mentira - Orquesta Francisco Lomuto con Fernando Díaz - 3:09 - 27/12/1935 - Tango -
12. Luna de arrabal - Orquesta Francisco Lomuto con Fernando Díaz - 3:21 - 27/12/1935 - Vals -
13. A la gran muñeca - Orquesta Francisco Lomuto con Jorge Omar - 3:06 - 15/01/1936 - Tango -
14. Qué facil es decir!... - Orquesta Francisco Lomuto con Jorge Omar - 3:16 - 12/03/1936 - Tango -
15. Después arreglamos - Orquesta Francisco Lomuto con Jorge Omar - 3:05 - 12/03/1936 - Tango -
16. Puerto nuevo - Orquesta Francisco Lomuto con Jorge Omar - 2:58 - 01/04/1936 - Marcha Canción -
17. Quereme un poco más - Orquesta Francisco Lomuto con Jorge Omar - 3:15 - 01/04/1936 - Tango -
18. El viejito del acordeón - Orquesta Francisco Lomuto con Jorge Omar - 2:50 - 23/04/1936 - Polca -
19. Dos rosas para ti - Orquesta Francisco Lomuto con Jorge Omar - 3:06 - 23/04/1936 - Vals -
20. No sigas mis pasos - Orquesta Francisco Lomuto con Jorge Omar - 2:41 - 05/06/1936 - Tango -
21. La cuadrera - Orquesta Francisco Lomuto con Jorge Omar - 2:30 - 05/06/1936 - Ranchera -

Ángel D'Agostino Vol. 6 (1946-1952) - (CTA-356)
01. La cumparsita - Orquesta Ángel D'Agostino con Ángel Vargas - 3:04 - 08/02/1946 - Tango - recording date not verified
02. Serpentinas de esperanza - Orquesta Ángel D'Agostino con Ángel Vargas - 2:59 - 08/02/1946 - Tango -
03. Racing Club - Orquesta Ángel D'Agostino - 2:40 - 29/03/1946 - Tango -
04. Destellos - Orquesta Ángel D'Agostino con Ángel Vargas - 2:40 - 29/03/1946 - Tango -
05. Con sabor a tango - Orquesta Ángel D'Agostino - 2:47 - 12/07/1946 - Tango -
06. El morocho y el oriental (Gardel-Razzano ) - Orquesta Ángel D'Agostino con Ángel Vargas - 2:30 - 12/07/1946 - Milonga -
07. Demasiado tarde - Orquesta Ángel D'Agostino con Ángel Vargas - 2:39 - 10/09/1946 - Tango -
08. Camino del Tucumán - Orquesta Ángel D'Agostino con Ángel Vargas - 2:50 - 10/09/1946 - Tango -
09. Alma de bohemio - Orquesta Ángel D'Agostino con Tino García - 3:17 - 10/06/1947 - Tango -
10. Era en otro Buenos Aires - Orquesta Ángel D'Agostino con Tino García - 2:51 - 10/06/1947 - Tango -
11. El trece - Orquesta Ángel D'Agostino con Tino García - 3:15 - 18/12/1951 - Tango -
12. Carnavales de mi vida - Orquesta Ángel D'Agostino con Tino García - 3:19 - 18/12/1951 - Tango -
13. Bailarín compadrito - Orquesta Ángel D'Agostino con Tino García - 2:33 - 24/01/1952 - Tango -
14. Mi distinguida pebeta - Orquesta Ángel D'Agostino con Rubén Cané - 2:29 - 24/01/1952 - Tango -
15. Café de Barracas - Orquesta Ángel D'Agostino con Tino García - 3:16 - 24/07/1952 - Tango -
16. Argañaraz - Orquesta Ángel D'Agostino con Tino García - 3:26 - 24/07/1952 - Tango -
17. La cumparsita - Orquesta Ángel D'Agostino con Tino García - 3:42 - 20/08/1952 - Tango -
18. Abranse las pulperias - Orquesta Ángel D'Agostino con Tino García - 3:07 - 20/08/1952 - Tango -
19. Pico de oro - Orquesta Ángel D'Agostino con Tino García - 3:11 - 31/10/1952 - Tango -
20. Un copetín - Orquesta Ángel D'Agostino con Rubén Cané - 2:43 - 31/10/1952 - Tango -

José Servidio / Luciano Leocata (1956-1957) - (CTA-407)
01. Gallo ciego - José Servidio "Balija" y su Orquesta del Recuerdo - 2:17 - 1956 - Tango - recording year unverified
02. Lágrimas - José Servidio "Balija" y su Orquesta del Recuerdo - 2:40 - 1956 - Tango - Genre: Tango Milonga
03. Tirale manteca al gringo - José Servidio "Balija" y su Orquesta del Recuerdo - 2:47 - 1956 - Tango Compadrón -
04. Cuadro porteño - José Servidio "Balija" y su Orquesta del Recuerdo - 2:50 - 1956 - Tango -
05. María Esther - José Servidio "Balija" y su Orquesta del Recuerdo - 2:23 - 1956 - Vals -
06. Arrabalero - José Servidio "Balija" y su Orquesta del Recuerdo - 2:44 - 1956 - Tango -
07. Recuerdo - José Servidio "Balija" y su Orquesta del Recuerdo - 3:00 - 1956 - Polca -
08. Pabellón de las rosas - José Servidio "Balija" y su Orquesta del Recuerdo - 2:34 - 1956 - Vals -
09. Remigio - José Servidio "Balija" y su Orquesta del Recuerdo cantado por Elena Maida en el estribillo Osvaldo Aguado - 2:35 - 1957 - Ranchera -
10. Toma... mate - José Servidio "Balija" y su Orquesta del Recuerdo - 2:48 - 1957 - Tango - recording year unverified
11. A mi madre - José Servidio "Balija" y su Orquesta - 2:37 - 1957 - Vals -
12. Cadenita de amor - José Servidio "Balija" y su Orquesta - 2:36 - 1957 - Ranchera -
13. Y... todo es mentira - Luciano Leocata y su Orquesta Típica con Oscar Macri - 2:59 - 1957 - Tango -
14. Aquel regalo - Luciano Leocata y su Orquesta Típica - 2:56 - 1957 - Tango -
15. Regalame esta noche - Luciano Leocata y su Orquesta Típica con Oscar Macri - 2:59 - 1957 - Tango -
16. Alguna vez te olvidare - Luciano Leocata y su Orquesta Típica con Alberto Del Valle - 2:54 - 1957 - Tango -
17. Cuatro palabras - Luciano Leocata y su Orquesta Típica con Oscar Macri - 2:53 - 1957 - Tango -
18. Amor de marinero - Luciano Leocata y su Orquesta Típica con Oscar Macri - 2:49 - 1957 - Tango -
19. O ("O") - Luciano Leocata y su Orquesta Típica con Oscar Macri - 2:42 - 1957 - Tango -
20. El embrollón - Luciano Leocata y su Orquesta Típica - 2:07 - 1957 - Milonga -
TANGO-DJ.AT Tango Database

Latest updates of the TANGO-DJ.AT Tango Database of 47507 tracks include: