TANGO-DJ.AT
Association for preservation
and provision of Argentine tango

Newsletter July 2013
by Bernhard Gehberger
July 2013
Dear Tango enthusiast,
this is Bernhard from TANGO-DJ.AT, Association for preservation and provision of Argentine tango with the monthly newsletter TANGO-DJ.AT about DJ-ing, special Tango CDs, Tango dancing and much more. Please note that videos, sound samples and special characters might not display correctly in the e-mail. Please visit the online version instead. Enjoy!
Introduction
Basically there is only one big topic. We will present our findings of a serious soundcheck of PA-systems for tango music and introduce the brand new TANGO-DJ.AT PA-system which will power all TANGO-DJ.AT events as well as any other event we are cooperating with.
First chance to hear the new TANGO-DJ.AT sound system will be the 2nd International Milonga Vienna taking place this Friday 26 and Saturday 27 July!
Second chance will be our Alpine Abrazo 2013 taking place 12-15 September in Mallnitz - National Park Hohe Tauern.
Please enjoy this month's newsletter. We'd very much appreciate if you want to recommend it to your friends or your link to TANGO-DJ.AT.
best wishes from Vienna,

Bernhard

TANGO-DJ.AT
Association for preservation and provision of Argentine tango
DJ-ing & dancing Tango
International Milonga 2nd edition, 26. & 27. July


YES, there is going to be a second edition of the infamous International Milonga organized by TANGO-DJ.AT! And it will be even larger, longer and better! It will combine the atmosphere of an international marathon with the uncomplicated style of a regular Milonga.  

No registration necessary: Just come, dance and enjoy!
Details and updates can be found here:
http://tango-dj.at/events/international_milonga!
Program:
Friday 26. July, 18:30-20:30:
Workshop with Bernhard, Birgit & Michael:
Unterschied kleine und große Drehungen in enger und offener Umarmung
Differences of small and large turns in close and open embrace


Friday 26. July, Friday night milonga 21:00-4:00
DJ: Christoph Lanner (Vienna/Austria)


Saturday 27 July, Saturday afternoon milonga 15:00-21:00
DJ: Karin Betz (Frankfurt/Germany)


Saturday 27 July, Saturday night milonga 22:00-4:00
DJ: Matthias Bellemann (Jena/Germany)
Prices:
8,- EUR for afternoon Milonga *
12,- EUR for single evening Milonga *
15,- EUR for Intensiv Workshop *
20,- EUR for Milonga Full pass = 7h + 6h + 6h (+1h) = 20h of Tango!
That's 1,- EUR / hour for an international tango event! *

* for TANGO-DJ.AT members. You may become associate member by attending one of our events.
Location:
The location is offering 300m2 perfect wooden dance floor and AIR CONDITION:
Louis Braille Saal
Hägelingasse 4-6
1140 Vienna

(U-Bahn Station U3 Hütteldorferstraße)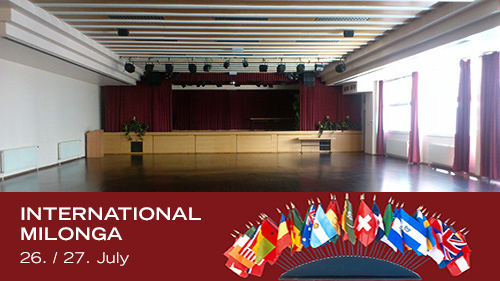 Don´t miss the chance to come by and see us before at the 2nd International Milonga (Friday night, Saturday afternoon, Saturday night) in Vienna on July 26 & 27! A great way to reunite, meet new and old friends and pass the time until September!
Registration for Alpine Abrazo 2013 (2nd edition)

The registration for Alpine Abrazo is open!
As of now, there are still places left.... but don´t wait until the last minute to be part of this wonderful experience offering you a great location with wooden dancefloor, warm Tango embraces, delicious traditional Austrian food and wonderful Alpine views…
Watch the 1st edition trailer to get an idea of whats waiting for you in Austria! And this time - be a part of this great event and make it even more special!!

Join us from September 12-15 for Alpine Abrazo, and take an extra few days and pack your hiking clothes to enjoy the surroundings!
For more details as to whats included (Milongas, FREE bath & sauna facilities, FREE snacks & dinners, all soft drinks, water, coffee, tea etc…) and to register see
We are looking forward to seeing you there!

Your,
ALPINE ABRAZO TEAM
Recommended upcoming international Tango events
Some international Tango events Bernhard is DJ-ing, recommending or travelling to:
Please mind that for most of these events registration is mandatory and if you are interested in taking part you have to find out about the registration modalities soon enough!
News
TANGO-DJ.AT PA-system and soundcheck
We planned to buy a PA-system to be used for events organized or supported by TANGO-DJ.AT. As hardly any professional sound engineer or seller is experienced with our old tango music and we were prepared to go for a serious big and expensive system, we made our own tango soundcheck!
In order to find out which system and speakers are best suitable for tango music we tested almost 500 kg of sound equipment - 8 different active and passive speakers. As this is probably one of the largest PA-system tests ever made for tango music we want to let you know about our findings:
The sound chain was:
HP Elitebook
RME Babyface
ALLEN & HEATH XONE 92 Mixer
NOVA HD 8000 Wifi speaker management system or
XILICA XP-4080 speaker management system
active speakers:
JBL PRX 612M
MACKIE SRM 450 V2 Black
MACKIE HD-1221
passiv speakers:
JBL PRX 412M
DYNACORD A 112
MARTIN AUDIO LONDON F12+
amplifiers for passiv speakers:
CROWN Xti 4002
NOVA X 2000
EV Q1212
The whole system was pluged into a power socket being directly connected to the fuse without any other devices in line. All active speakers produced a noticeable noise when running. On the Mackie HD 1221 one can hear an additional silent ventilator running. This should not be an issue at event locations, but in rather small rooms this is noticeable. All speakers have a 12" driver and are two way speakers with the exception of the Dynacord which is a 3 way speaker.
Both JBL speakers, active and passive performed disappointing. They were by far the smallest and lightest speakers, as was the sound. Despite a 12" driver we would not consider them a full range speaker lacking in bass and full sound. A sub seems to be necessary with those speakers. We also did not like the feeling of high and mid range frequency reproduction.
The Mackie SRM 450 v2 had a rather loud but kind of shallow bass and rather disturbing high frequencies. We considered this speaker to be useable, but overall we had the impression to "hear" the big plastic body of this speaker. It is also said that the build and sound quality of these speakers are inferior to the old versions of the same range. As we had several more speakers we kept on comparing.
Dynacord A 112 is a passive 3-way speaker. 3-way speakers are very unsual nowadays, but we thought that the dedicated 6" mid range driver should handle the important midrange frequencies in tango quite well. Compared to all other speakers the sound was very different indeed and could be described as oversized studio monitor. Sound characteristic was very bright, clear and maybe the most natural sounding one. Still we did not like it at all. It simply did not work for a PA-system. High and mid range frequencies were far to prominent and strong up to disturbing. Overall sound rather thin and very little bass.
Now the last two speakers. Both share the same horn being produced by Martin Audio London. The sound was compareable, but different. Both have a strong clear bass and a full sound. You feel like the music being projected onto the listeners/dancers.
The Martin Audio London F12+ features massiv, large and heavy wooden cabinets. They produced the strongest bass, but had limited possibilities to reproduction middle and high frequencies in very good quality. With those speakers we had the strongest "PA-Sound-Experience" like music being projected on our bodies. Overall feel of this speaker is that it would be perfect for powerfull and lound discothek music where strong beats should be "pumped" on to the crowed. It would be our first choice of the passive speakers.
The Mackie HD 1221 is using a custom build horn by Martin Audio London and has sophisticated reproduction of middle and high frequencies. Bass is strong but not too dominant. The massive wooden cabinet seems to help to deliver rich and powerfull music to the listeners/dancers. Overall the Mackie HD 1221 had the most balanced, high quality and pleasant sound of all tested speakers by far.
So we decided to go for 4 of the MACKIE HD-1221. As we were convinced by the quality of those we run a soundcheck also on the much larger HD-1521 and HD-1531. Those are developped in cooperation with EAW. The HD-1521 being a 2-way speaker with a 15" driver had the same sound character as the HD-1221 but with more bass and a stronger more present midrange. Overall again a different level of sound quality, so we got two of them. As were the 3-way HD-1531. Having a 6" midrange driver helps to reproduce very defined miderange, while the horn and the 15" driver can do what they can do best.. The sound is not to compare with the smaller 2-way speakers, but this comes for a price in EUR (1500,- EUR), size (50x50x100) and weight (almost 50kg)..

Anyway as we are crazy for good sound, we are going to have two of those as well completing the brand new TANGO-DJ.AT PA-system being big enough to rock any Tango location:
ALLEN & HEATH XONE 92 Mixer
XILICA XP-4080 speaker management system
2 x MACKIE HD-1531
2 x MACKIE HD-1521
4 x MACKIE HD-1221
First possibility to experience the great sound of this system will be at the 2nd International Milonga Vienna next Friday 26 and Saturday 27 September in Vienna.
PS DJ-sidenote: Only decent sound interfaces are going to feed this system! ; )
TANGO-DJ.AT Tango Database

Latest updates of the TANGO-DJ.AT Tango Database of 49338 tracks include:
Orquesta Francini-Pontier
Francisco Canaro (on El Bandoneón and FM-Tango CDs)
Héctor Varela
Horacio Salgán
José Basso
Mariano Mores
Miguel Caló (all dates completed)
Osmar Maderna
Osvaldo Pugliese (all dates completed)
Rodolfo Biagi (all dates completed)
Florindo Sassone (all dates completed)